The Kids Comedy Magic Show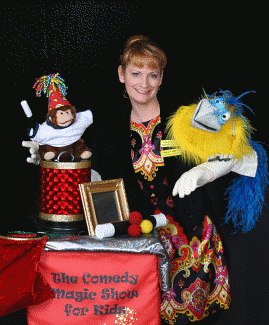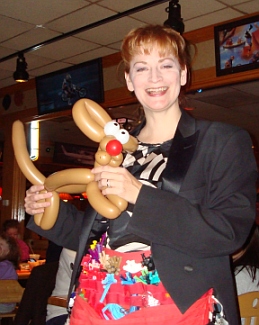 (Ideal for children age 3 through 10): This show's awe-inspiring magic transfixes older kids and grownups, while a goofy presentation draws belly laughs from the younger kids. There is mind reading. Objects appear and vanish. Abby elicits lots of audience participation to keep the children engaged and plenty of silliness to keep them laughing. Another animal puppet closes the show. Wows, giggles and guffaws are guaranteed. With stage-quality music, sound effects and props, this is a very polished, professional show, even when it's in a living room. This show is equally well received by both boys and girls. Here is a typical comment from a customer about this show:
"Abby, I just called to say we cannot thank you enough. We had such a marvelous time on Sunday, and it was just such a pleasure to have you. Again, it was just a magical event and every single person there was crazy about it, it was awesome." - Voicemail from the birthday mom after her daughter's birthday party
What's included with the Comedy Magic Birthday Party?
- 1.5 to 2 hours of activities so you can relax
- Covers up to 30 kids (less trimming of your guest list)
- A party favor for each child to keep
- A custom-made balloon sculpture for each child to keep
- 2 gifts for the birthday child
- Lots of laughs during the show
- Limelight for your child if he or she chooses to help with a trick
- Invitations when you
sign up online. Click here for prices.
Click here to send this page to a spouse or friend.